The 2D Log Designer window is used to specify which data items are to be displayed in 2D logs, their order (left-to-right) in the logs, and their appearance. The designer is accessed using the 2D Log Design button at the top of any RockWorks program window which offers striplogs.
Turn on log columns by inserting a check in the item's check-box in the Visible Items list. (See Visible Items Summary for details.) All active log columns will be displayed in the Layout Preview pane with a cartoon representation.


!

Note that the Preview cartoon is designed to assist you in knowing which columns are turned on, and their left-to-right arrangement. However, the appearance of column cartoons won't change based on settings changes. For example, if you change the color of the I-Data bargraph, this will not be reflected in the Layout Preview.


Rearrange a log column by clicking on it in the Layout Preview pane, dragging to the left or right, and releasing the mouse button when it's placed where you want it.


Access the column's options by clicking on the item's name in the Visible Items list or in the Layout Preview. The options will be shown in the lower Options pane.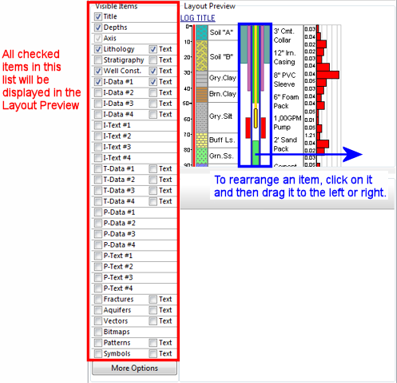 ---

Back to 2D Striplog Overview